Happy Thursday!  It feels like it was just Thursday, doesn't it?  That's great, right?  Life just flying past you like the Starship Enterprise.  Ugh, I'm old.
It's been a weird week, but I feel like all my weeks are pretty weird since I am basically like a martian where I live.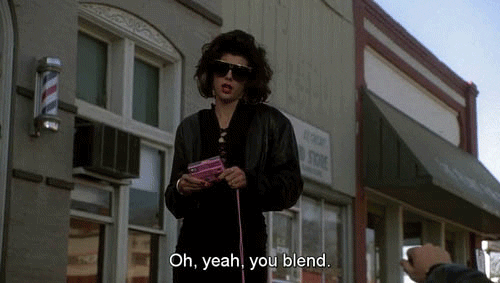 So since my week has been pretty random, and it's Thursday, let's Think Out Loud with Amanda at Running with Spoons!
10 Things You Couldn't Care Less About Me Doing
1.  My husband had wrist surgery last week, so, this past weekend was all about taking it easy.  Saturday, we went for a walk in a park I didn't even know existed, and I like it so much better than a couple of the busier parks closer to our apartment.  Glasgow has so many parks, it's really fun discovering all the new ones!
2.  So, because we were taking it easy for the weekend, we found no shame in watching the entire Coven series of American Horror Story .  I loved this show!   I will be so depressed when they stop cranking AHS out!  Luke and I only have season 4 "Freak Show" left to watch!  (Also, season 5 "Hotel" is currently in production, which makes me very happy!)
3.  We've since moved on to watching Under the Dome now.  I'm glad I married a man who loves staying in bed and watching TV as much as I do — there's really nothing better.  Well, almost nothing 😉 LOL
4.  Credit card companies make me sick.  If I have to get into it, it'll be a whole different kind of rant.  All I'm saying is, if you want to feel like shit about your life, call your credit card company.  They are slimeballs.  End of story.
5.  If you want to rebound from feeling like shit about yourself after you're off the phone with your credit card company, look at this picture of my dream dog, Norbert.  I want a this dog.
6.  You're welcome for that.
7.  M&Ms and Budweiser taste better in the UK.  The most American of American stuff tastes a ton better over the Atlantic.  In fact, I would go so far as to say the Budweiser over here must be brewed at Hogwarts or something.  I know it was just Memorial Day and all, but seriously, the Brits do our chocolate and our beer better than we do.  Unless it's not real Budweiser…
8.  I have no nails left.  I bit them all off, because all I do lately is stress out about the rest of my life from sunrise to sunset (which, incidentally, is 11 pm in Scotland).  I've had one job interview so far from the 50+ places I've applied to, and it didn't work out.  #SelfEsteemBooster
9.  In addition to biting my nails, I also bite everything in sight.  I have not stopped eating for days.  It started Saturday afternoon with my first bowl of spaghetti in 120 days, and hasn't stopped since.
10.  That moment when you find a piece of ginger shaped like a bunny.  RIP, Gingerbunny,  you were too delicious.
Tag!  You're it!!  What are you thinking out loud about this week?