It's Sunday!  In case you forgot?  I pretty much know I'm the only person who is rarely aware of what day it is lately.   #Lostanddisorderly.  I'm feeling even more disoriented than usual, because in Scotland we just set our clocks ahead an hour this morning, and deja vu, I already did that three weeks ago!  This has been a nasty bout of jet lag for yours truly; it's taken me nearly two weeks to feel human again!
         Dear Breakfast, I done you wrong, wrong, wrong.
I have to confess, I've been sort of a "do-as-I-say-not-as-I-do" kind of gal, when it comes to eating breakfast.  I'm not really a breakfast person and I KNOW it's the most important meal of the day.  I've been known to make DIY healthy cereals and eat a Larabar in place of a meal.  One of my issues is, I don't like eggs.  I know, I'm f'n weird and it's totally irritating.   However, not only is it weird and irritating, but it is a HUGE hindrance when it comes to breakfast and especially bruncheons (word?) with pals.  I feel like, when you don't like eggs, you're limited to decadent waffles, pancakes, and crepes or reduced to a fruit salad as your only choice on the menu.  Although, when it comes to brunching, the mimosas totally make up for it with their lovely Vitamin C + carbonation = happy place pour moi.   Truth be told, I prefer a day drink, now that I'm in my mid-thirties.  Young.  But I digress, I often would love to eat more breakfasty stuff, but I don't want to pack on the calories, carbs, or sugar first thing in the day!  So many bloggers out there have wonderful breakfast ideas that don't skimp on nutrition or taste!  So, I've put together a "healthy pancake bucket list" containing several creative and nutritious delights I need in my belly, like, yesterday.
Healthy Pancake Bucket List
These are in NO particular order, and honestly, if I could eat them all that the same time, I probably definitely would, but that pretty much defeats the purpose, right? Yeah. So, I'll just have to cross these off my list one breakfast at a time.
Peanut Butter Protein Pancakes via Fit with Rachel.
Lemon Chia Seed Protein Pancakes via Fit, Fun & Delish.
Pumpkin Cake Pancakes via Sprint 2 the Table.
Chocolate Chip Gingerbread Greek Yogurt Pancakes via Running with Spoons.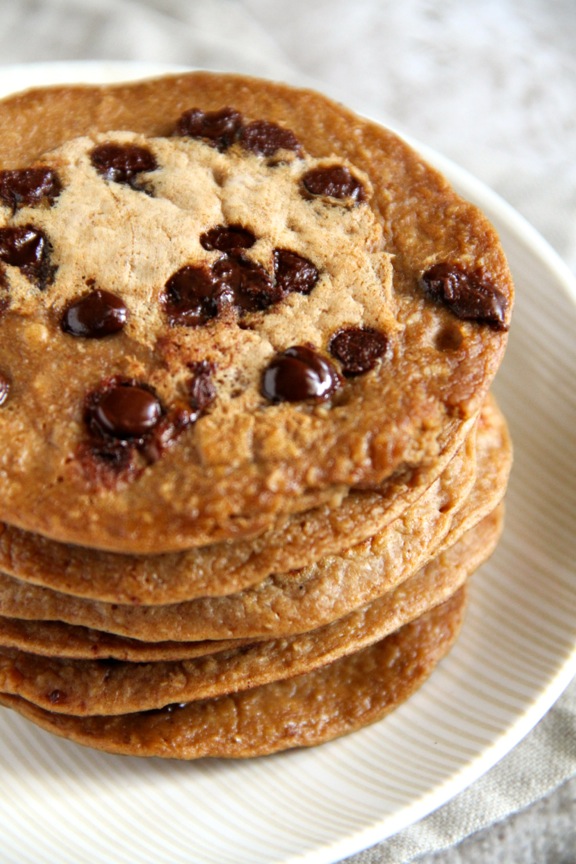 80 Calorie, Zucchini Cocoa Pancakes via Skinny Fitalicious.
Wow!  I'm super hungry now.  Are you?
Have a great Sunday!
Do you have a favorite pancake recipe? What's your favorite healthy pancake ingredient(s)?