Happy Monday!  It's snowing, and I'm freaking out, but as long as the weather is beautiful this Friday in Glasgow, Dublin, and Boston, I don't care what it does here at the moment!
I am SUPER busy this week, but I am still going to make sure that I take the time to exercise though!  I am lucky because I am an instructor, so do get too caught up, I still have to move at some point!
This morning, I am going to squeeze in this workout, which has always been a no-fail for getting sweaty and revving up the 'ol metabolism!
One Week Shred Review
So it's one week later, and I completed Jillian Michael's One Week Shred.  So, everybody loves the claim that you could "lose up to 7 pounds in 7 days", right?  Here are my thoughts on this edition of Jills workout library:
Pros:
Challenging workout.
You'll sweat.
A variety of moves, fast pace.
You will get some results.
SUPER affordable!
Cons:
The workout comes with a rigid food plan (which I did not follow to a T since I don't like a lot of what she had on it).
Some moves are not suitable for beginners (even the modifications).
For best results, you're encouraged to do the workouts as an  AM/PM circuit, which isn't realistic for busy people.
Some moves could cause injury if not done properly
My thoughts on OWS
So, as I stated in the "cons" list, I did not follow Jillian's food plan exactly.  I won't say I went crazy overeating, eat a balanced and reasonable diet, but I didn't follow it exactly.  You can see the OWS eating plan here.   I didn't find the workout super challenging as far as my being able to keep up or make all the moves correctly, but I am in good shape.  However, the moves of this workout did leave me sweating.  In fact, I loved the resistance training workout, and will probably use it intermittently with my strength training routine.  I did start getting bored about day 4, but I think that's normal when you're doing the SAME two routines every day, which you cannot do in the long run because you will have significant adaption and overuse issues.  Mix it up, peeps; variety is truly the spice of fitness!
My results on OWS
I didn't lose any weight.  Not a pound.  However, you don't want to get me started on my "stop using scales as success" speech; it's far too early for that!   I will say this though, please, do NOT use your scale as the mark of your success.  I think they are somewhat pointless in most cases.  But I digress, I did lose about an inch off my lower abdomen and a 1/4 inch on each arm, which isn't bad for a week's worth of working it. Please also keep in mind I teach classes all week as well, so this was NOT my only exercise for the past week.
Also, please  (please, please!) excuse my "Day one/Day 7" photos; they are terrible … in every way.  My room is a mess, and I'm a mess, but you get the idea of what I'm showing ya'll!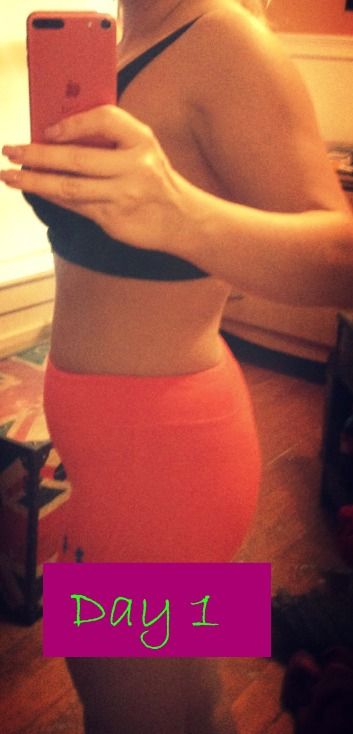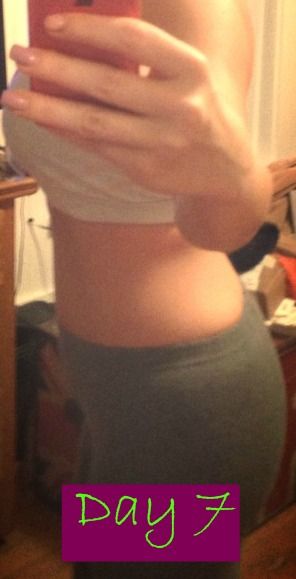 Again, these are, like, the worst fitness selfies ever, but I would say there was a little bit of change.  So the verdict is, depending on your starting point, you may be able to make a jump start on turning your body.  I think that following the food plan exactly, will probably help, but I would say as long as you're eating a balanced diet and avoiding alcohol you will probably get the same results.
However, if you're not trying to do it as a quick fix before a wedding, reunion, or other special events; I would just start out eating well and getting at least 30-45 minutes of resistance training and cardio exercise 5 days a week, and you'll likely see similar results.
I give One Week Shred a 3 out of 5.
Well, I gotta hit the road, but I hope you're having a great Monday and you get up and "move it" too.
If you have done the One Week Shred – I would love to know your thoughts on it and whether or not you had success.  Did you like it?  Hate it?  LOVE it?  I wanna know!
LET'S CONNECT!